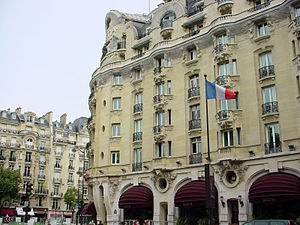 One of the grand hotels in Paris is the Lutetia. Built in 1910 under the direction of two of the greatest architects of the day, Hotel Lutetia was the first Art Deco hotel in Paris.
Situated in the literary and artistic centre of Paris, several painters and writers have stayed or made their home at the luxury hotel including Matisse, Andre Gide, Antoine de Saint-Exupéry and Picasso. The adventurer, Alexandra David Neel stayed here after her expedition to the Far East, as did the celebrated dancer, Josephine Baker and General de Gaulle spent his honeymoon here.
It was however, it's role in WWII that is most fascinated. During the war, it was requisitioned by the Nazis' counter-intelligence service but in 1945, upon the orders of General de Gaulle, it became a meeting and medical point for prisoners returning from concentration camps, taking in up to 2,000 arrivals each day.
Today, it is a beautiful example of the art deco style, luxurious and stately, the Lutetia occupies space on the left bank neighborhood of the St Germain area, and is very close to Le Bon Marche department store.