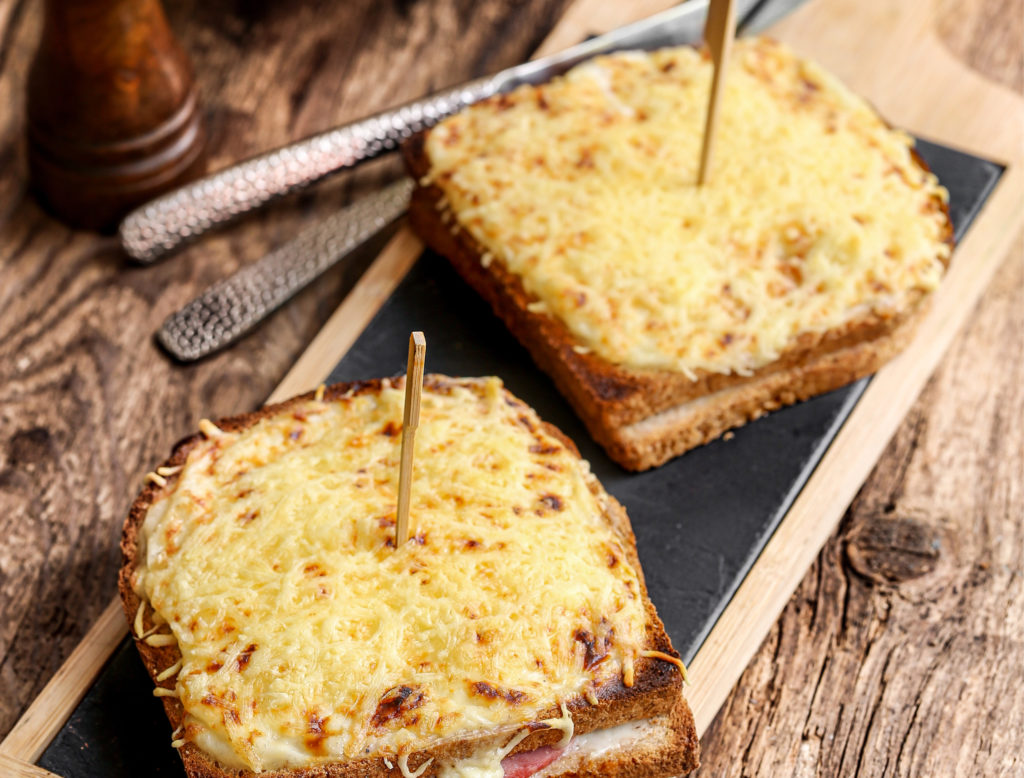 If you have travel to France, chances are you have had a croque monsieur. A croque monsieur is a French ham and cheese sandwich.  It is a lunch or snack and a good reminder of the cafe's of Paris where it was first introduced in 1910. Don't be intimated by the béchamel sauce, it is easy and considered one of the main sauces in French cuisine.
Bon appétit!
pinch of nutmeg

12 ounces Gruyere, grated

1/2 cup  grated Parmesan
Bechamel Instructions
Melt butter in a  saucepan over medium heat.
Add flour all at once, stirring,  about 3 minutes.
Gradually add warm milk, stirring until mixture is smooth. Whisking until the sauce thickens.
Remove from heat and add salt, pepper,  and nutmeg.
Add 1/2 cup of Gruyere and Parmesan to the Béchamel Sauce and set aside.
Sandwich Ingredients 
12 slices white sandwich bread, country bread or brioche

Dijon mustard

8 ounces baked ham, sliced thin
Sandwich Instructions
Preheat the oven to 400 F.
Place bread on parchment lined baking sheets and bake for 5 minutes. Turn and bake the other side until toasted.
Brush half the toasted breads with mustard and then spread the Béchamel Sauce above on the top.
Add a slice of ham to each, and sprinkle with half the remaining Gruyere.
Top with the toasted bread tops (no mustard) and top with the Béchamel sauce above and  sprinkle with the remaining Gruyere.
Bake the sandwiches for 5 minutes.
Then turn on the broiler and broil for 3 to 5 minutes, or until the topping is bubbly and beginning to brown.
Optional
Add a fried egg on top for a Croque Madame