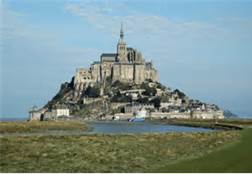 One of the things I love about watching the Tour de France, is seeing the many charming villages and the beautiful French countryside as they ride through. The Tour is, no doubt, a welcome advertisement for France's Tourist Bureau with estimates of up to 2 billion people around the world viewing at least part's of the Tour's television broadcasts.
Today, the Tour will pass by Mont Saint-Michel, the second most popular tourist attraction in France after the Eiffel Tower. It is not just a spectacular and beautiful place, but has an interesting history as a pilgrimage site as well.
According to legend, in 708, Bishop Aubert received orders from the Archangel Michael to build a church on there in his honor. The Bishop failed to do as he was instructed, so the Archangel Michael pierced a hole in the Bishop's skull with his finger. The Bishop, realizing that St Michael was indeed real, and not a dream, did build a small church on this spot in 709. Aubert's skull is kept at the Saint-Gervais church.
Several years ago we drove from Paris to see Mont Saint Michel, and as we approached, you could see it in the distance, appearing to float on a cloud. It is an amazing place, with shops and restaurants built along a narrow cobblestone walkway, which spirals its way around and up, leading to the Romanesque style church of St Michael at the very top. As you can imagine, the view from the top is an amazing reward for what can be a bit of a difficult climb.
Since becoming a UNESCO World Heritage Site in 1979, the Mont sees hundreds of thousands of visitors every year. If you won't be visiting Mont Saint Michel anytime soon, watch the Tour broadcast today. I promise you, you will want to see it in person after that.