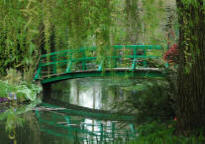 By June, the flowers in my neighborhood are really starting to blossom. The lilacs have busted out, and the fragrance as I pass on my bike is simply intoxicating. Riding through the nearby meadows, wild with color, reminds me of my visit to Giverny, France and discovering the magical and yet peaceful place that was once home to one of my favorite artists, Claude Monet.
Monet settled in Giverny in 1883, and having never been fond of overly "organized" gardens, he went on to establish his own using a mixture of colors and textures and letting them grow rather "freely". He developed an interest in botany, and looked for unusual plants to mix with the more common varieties native to the area. Just ten years after settling on his property, Monet dug his first pond, and created a Japanese inspired water garden painted many times over in his waterlilies paintings. It's a real treat for art and nature lovers to visit the gardens on a day with fewer tourists, so you can sit for a while on one of the many benches, and just admire the gardens and live as the artist did…even if just for a few hours.
The Foundation Claude Monet continues to tend to Monet's house and gardens with monies from ticket sales. Giverny is just a short train ride from Paris, and a lovely way to spend a morning or afternoon if you are visiting during the summer season.